---
---
The Claremont Chamber of Commerce and local merchants are partnered in a campaign to increase awareness of the benefits of shopping at local merchants.
---

Claremont Chamber Gift Card Program
Throughout the year, many residents and visitors in the city purchase the Claremont Chamber cards, for family and friends. Each card distributed from our office includes a list of merchants participating in this wonderful program, giving each recipient a huge array of choices as to where they can spend their gift.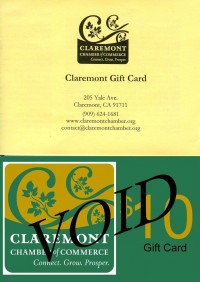 $10 value
$25 value
Over 140 Chamber businesses participating
For all occasions
To see where you can cash in your gift cards - Click here!
We only accept cash or check payments for the card purchases, this is so there are no additional fees to our merchants!
If you would like to purchase the cards by mail, we can arrange that. More info below.

Send gift cards to a loved one via mail!
Don't live in Claremont and want to send Claremont gift cards to a loved one. No worries, simply send in a check and self addressed stamped envelop and we will mail it directly to them.
Here is how:
Write a check for the amount of gift cards you would like. Gift Cards come in increments of $10 and $25. Make check payable to Claremont Chamber of Commerce.
Send in a self addressed stamped envelop (SASE) with the address of where you would like the gift cards sent to.
Mail both the check and SASE to:
Claremont Chamber of Commerce
205 Yale Ave.
Claremont, CA 91711
Gift card mail requests are processed right away and mailed out within the next day. Plan accordingly.
For more information call us at (909) 624-1681.
---

Quick Links


Chamber and Community Events
Discover Claremont
City of Claremont Calendar
Claremont Colleges Calendar
Friday Nights Live
Claremont Calendar
TheVillageClaremont.com
---
---
---
---
---